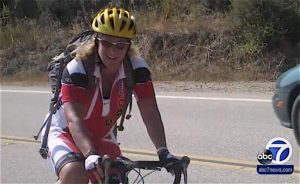 San Francisco Bay Area spine surgeon Robert Rovner, MD says a new minimally invasive procedure is effective for many patients suffering from back pain and associated leg pain while preserving range of motion.
Dr. Robert Rovner's patient Kim rides her bike after minimally invasive spine surgery.
"In many cases the pain caused by lumbar spinal stenosis may now be treated using an alternative to spinal fusion," says Dr. Rovner. The procedure uses a titanium clip called "Coflex" to stabilize the spine after a laminectomy is performed to relieve pressure on the nerves. "This less invasive alternative preserves range of motion with the added benefit of a rapid recovery."
Dr. Rovner's patient Kim is in her early 50's and is extremely active. She participates in marathon bike rides and loves hiking through rugged mountain ranges. But a few years ago Kim began to suffer from intense back pain that became so intense that she was sidelined from enjoying her favorite physical activities.
Kim was experiencing nerve pain that radiated from her lower back down to her legs. "The only time I wasn't in pain was when I was sitting," she says. Dr. Rovner diagnosed Kim with lumbar spinal stenosis which was causing vertebrae in her lower back to become unstable, creating pressure on the surrounding nerves.
Lumbar spinal stenosis is usually treated with a procedure called a "laminectomy" which removes a section of bone from the vertebrae to decompress the nerves. A laminectomy is usually followed with spinal fusion to stabilize the spine. Instead, Dr. Rovner recommended a less invasive procedure using the "Coflex" device. "The Coflex was implanted after a laminectomy procedure to hold Kim's vertebrae in position while allowing them to flex, preserving range of motion rather than fusing the vertebrae together," says Dr. Rovner.
"The first patient I treated with the Coflex procedure was back to playing tennis and golf two weeks after his surgery," says Dr. Rovner. "The rapid recovery and return to function with Coflex is something that I'm not used to seeing with patients in whom I've done either a simple laminectomy alone or laminectomy combined with fusion."
Kim plans to return to some long-delayed adventures. "I'm going to be doing some backpacking and I'm planning to climb Mt. Kilimanjaro with my son," she says.
Dr. Rovner says that not all patients are candidates for the Coflex clip. "Patients with more advanced stenosis may not be candidates for Coflex and may require more extensive surgery or fusion, so it's important to consult with a board certified spine surgeon who offers several alternatives for treatment depending on each patient's condition."
For more information on non-surgical therapies and surgical treatment for back or neck pain and injuries call the office of Robert Rovner, MD at Disc & Spine in Danville, CA at 925.275.0700 Visit www.DiscAndSpine.com