Dr. Vikram Talwar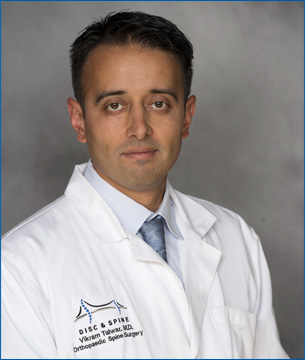 Dr. Talwar grew up in the East Bay, which explains his loyalty to the Oakland A's, and the (for the time being) Oakland Raiders and Oakland-based Golden State Warriors. He attended U.C. Berkeley, completing a four-year pre-med B.S. degree, then an East Coast medical school education at Temple University Medical School in Philadelphia. Dr. Talwar then completed his post-doctoral residency training at the San Francisco orthopedic residency program and a full one-year fellowship in spine surgery at U.C. Davis. Dr. Rovner and Dr. Talwar met at U.C. Davis in 2005 as Dr. Talwar was finishing his last of 14 years of education and training. Dr. Rovner was impressed by his humble personality and remarkable surgical skills. Although a devoted father and husband, his patients are his number one priority. He literally evaluates every patient as though they were a member of his family. He is always approachable and never too busy to answer a question. His surgical skills are impeccable. Always prepared, and careful to avoid complications, his operations go smoothly and efficiently. He is comfortable with large cases and really at ease under the microscope. Most importantly he takes full ownership of his outcomes and will stop at nothing to determine the cause of anything less than a perfect outcome. Dr. Talwar is well trained and experienced, but not afraid to take on new procedures if he believes they will benefit his patients.
In his free time Dr. Talwar is snowboarding and, most interestingly, is highly skilled in Poi (spinning fire). He enjoys travel and spending time with his wife and two daughters, hiking, scuba diving, biking, art, and as exemplified in the office, photography. Dr. Talwar and Dr. Rovner cover for each other and operate together on the larger more challenging cases. They frequently discuss challenging patient diagnostic or treatment alternatives together and often learn from each other's perspective. Dr. Rovner trusts Dr. Talwar implicitly as a friend, partner and surgeon. In fact, he chose him to operate on his family member when he needed lumbar surgery. There is no higher compliment than to be asked to operate on a surgeon or their family. Dr. Rovner couldn't be more proud to call him his partner.
Dr. Rovner feels very fortunate and proud to call Dr. Talwar his friend and partner. Dr. Rovner knows that Dr. Talwar will devote himself to providing the same high level of care to you that he has to Dr. Rovner's family.